Tag Archives:
Mario Donatone Soul Trio
Continua  Nei Vicoli del Blues una rassegna di blues organizzata da Angeliblues in collaborazione con Bourbon Street Jazz Club dal 4 Novembre al 16 Dicembre. Si esibiranno Juke Joint 4tet, The Moonshiners, Glen Martin Blues Band, Hill Side Power Trio, e la chiusura affidata all'astro nascente Fabio Marza Band venerdì 16 dicembre. Info: https://www.facebook.com/Nei-vicoli-del-Blues-225304027887037/
Inizia venerdì 2 dicembre la rassegna A Blues Winter Story, una serie di concerti blues presso il Flambard di Trento. Si esibiranno i Poor Boys, Lukas Insam Trio, The True Blues Band, Dos Equis XX, The Fireplaces, Thomas Guidicci, Fabio Marza Band. Info: https://www.facebook.com/flambardtrento/
Continua la rassegna Milano Blues 89 allo Spazio Teatro 89 in Via Fratelli Zoia 89 a Milano, con i concerti di Paul Venturi & The Junkers il 5 Novembre e di Egidio "Juke" Ingala & The Jacknives il 19 Novembre, Matteo Sansonetto Blues Revue il 2 Dicembre. Info: http://www.spazioteatro89.org/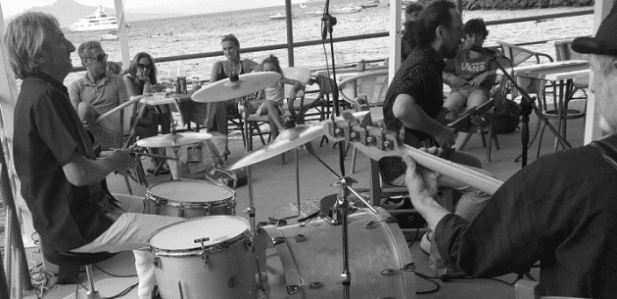 Non ero mai stato a Capri, ed avevo visto solo di sfuggita Napoli. Galeotta fu la rassegna Blues In Capri, iniziata il 4 Agosto e svoltasi nell'isola, famosa più per i VIP che per il mare o la meravigliosa Grotta Azzurra, ed eccomi quindi a visitare due posti incantevoli, per un viaggio al Sud dell'Italia dopo i tanti  fatti nel Sud degli Stati Uniti. Ed è incredibile come il blues qui scorra nelle vene di chiunque, dalla guida che ci accompagna a visitare le Catacombe di San Gennaro, parte di un progetto di recupero del quartiere Sanità di Napoli, al socio di Angeliblues che ci ha aperto le porte del suo splendido B&B Colori e Note.