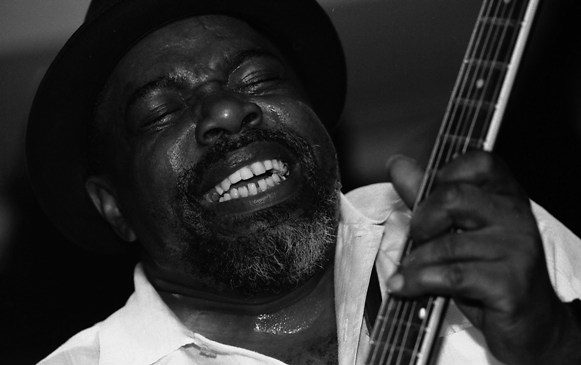 La data del 27 aprile all'Amigdala era fissata da tempo, non solo per il concerto ma per la concomitante festa per i 31 anni della nostra rivista. E diciamolo subito, una volta tanto la risposta del pubblico, componente di ovvia importanza per la riuscita di qualsiasi iniziativa musicale, è stata degna dell'avvenimento.
La serata è stata aperta da Max Prandi in veste solitaria, che propone alcuni standard tra cui una personale rilettura sia di "Grinnin' In Your Face" per sola voce che di "Catfish Blues". Presto raggiunto da Beppe Semeraro all'armonica, i due hanno dato vita ad un set di classici eseguiti con passione e competenza, da "I Can't Be Satisfied" a "You Got To Move", "Hobo Blues", per finire con una bella versione di "A Change Is Gonna Come".
Introdotti da un breve discorso di ringraziamento e auspici per il futuro da parte del Direttore, Marino Grandi, sale sul palco il chitarrista chicagoano Dave Specter con la sua band composta da Brother John Kattke tastiere e voce, Mike Schlik alla batteria e Harlan Terson al basso. Specter parte con alcuni strumentali di sua composizione, poi lascia spazio al canto a Kattke per un paio di pezzi contenuti nel CD di imminente uscita su Delmark, il tempo medio "Chicago Style" e una apprezzabile versione di "Same Old Blues", ballata in origine composta da Don Nix per Freddie King.
Arriva il momento di Lurrie Bell, che prende possesso del palco e della band, imprimendo nel giro di poco tempo la sua personalità; la sua chitarra produce sciabolate di classe, attinge alla tradizione del blues di Chicago trasfigurando i brani, per quanto si tratti in maggioranza di pezzi notissimi, col suo marchio inconfondibile.
Scorrono "Honey Bee", "Got To Live Chi-Town" (bello il dialogo alla chitarra con  Specter), in una alternanza di slow e pezzi ritmici. L'apice si raggiunge forse con una "Cold Cold Feeling" di grande impatto emotivo.
Poi Lurrie passa all'armonica per una versione (ci sembra) di "Laundromat Blues", ma c'è ancora tempo per "Messin' With The Kid" e un finale sulle note di "I'm Ready". Riascoltare Bell (in più con una buona band come quella capitanata da Specter)  è sempre un piacere, in quanto rappresenta quanto di meglio offra il Chicago Blues odierno, un surplus è stato farlo in una occasione celebrativa di amicizia e buona musica condivisa,  come la festa de "Il Blues".
Matteo Bossi