International Blues Challenge
Dopo 33 anni finalmente una donna si aggiudica il primo posto nell'I.B.C. a Memphis nella categoria Band. Si tratta di Dawn Tyler Watson, cantante originaria di Manchester, Gran Bretagna, ma stabilitasi successivamente in Canada a Montreal. Info: https://blues.org/international-blues-challenge/
Ambrogino d'oro al Nidaba
Il locale Nidaba Theatre di Milano, riceve l'Ambrogino d'oro, attestato di benemerenza civica conferito dal Comune di Milano, perché si è contraddistinto per l'importante contributo culturale e sociale apportato alla Città. Il riconoscimento sarà consegnato il 7 Dicembre, durante la tradizionale cerimonia che si terrà al Teatro Dal Verme. I nostri complimenti a Max!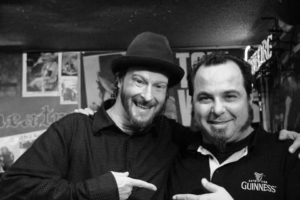 Tra i premiati per i 2017 Keeping The Blues Alive Awards, il cui elenco è presente nel sito www.blues.org della The Blues Foundation, spicca il nome del Porretta Soul Festival che nel 2017 vedrà la sua trentesima edizione, e Graziano Uliani. Complimenti per questi 30 anni di passione!
L'elenco completo dei premiati con i 2013 Keeping The Blues Alive Awards è presente nel sito www.blues.org della The Blues Foundation. Tra i riconoscimenti, che sono stati consegnati lo scorso 1 febbraio, spiccano i nomi di Shelley Ritter, direttore del Delta Blues Museum di Clarksdale e non solo, nella categoria Historical, della rivista norvegese Blues News in quella Print Media, di Vicente Zumel (che collaborò con la nostra rivista molti anni fa) in quella International, della Telarc in quella Record Label. Mentre l'elenco completo dei vincitori della 29a edizione degli International Blues Challenge tenutasi a Memphis dal 29 gennaio al 2 febbraio 2013, lo trovate nuovamente nel sito succitato, spiccano il 2° e 3° posto nella categoria band assegnati rispettivamente alla band tedesca di Michael van Merwyk ed a Dan Treanor's Afrosippi Band.